When someone is thinking about a kitchen renovation, remodel, or cabinet refacing project they are focused on the countertops and cabinets. This is critical, but it is not the only thing you need to consider when creating that renovated kitchen dream space. One area that you may have overlooked is the lighting.
Kitchen Cabinets Include Great Lighting


Why have those gorgeous countertops and pristine kitchen cabinets if they don't look their best. Even worse, cabinets and countertops alone can have trouble creating a mood or ambience in your kitchen. The solution, the right lighting.
Kitchen Cabinet And Studio Lighting Video
I have embedded a short video which is a great way to submerse yourself in this subject. It goes over some essential points without overwhelming you with too much detail.
The film goes over some of the basic types of light and their functions. Here is a quick summary:
Recessed lighting
You might hear this term for a type of task lighting where the fixture is embedded into the ceiling, giving it a low profile. Usually this is a type of task lighting.
Task lighting
These are lights positioned around key areas in the kitchen where you are going to need more light. They tend to be placed in areas of practicality like over the stove or the sink. These are important since you do so many tasks in the kitchen
Mood lighting
Mood lighting is the positioning of lights to give an effect. Light is used to add depth, height, and even ambience to a kitchen. This is often accomplished through dimmers or the dimming of the light to cause a refraction effect. This creates shadows and gradients across the floor, counters, and walls.
Natural light
Natural light is sunlight coming in through the windows or sky lights. This is important as they add a freshness and illumination to a room. The designers in the video stress how important that light will be as you work in and around your kitchen.
Some Examples of Kitchen Lighting And Cabinets Here in Virginia Beach
Here are some examples
Here is an example of the use of track lighting for both mood and task requirements. Our designers took the space and balanced function with form. The goal here is to provide a kitchen that is practical and elegant.
In this Accent Kitchen remodel bright task lighting sets off the light polished pine wood floors, giving this kitchen a warm feeling, even at night.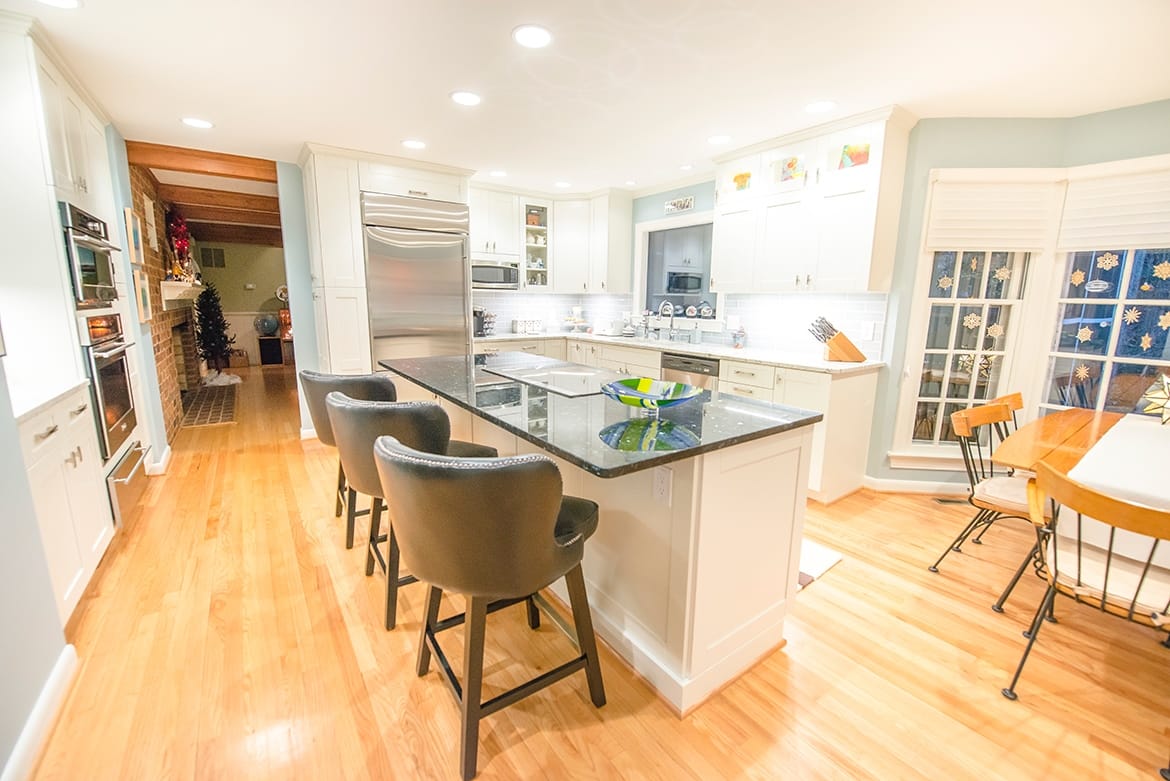 What Questions Do You Have About Lighting?
Let one of our designers design a kitchen lighting plan that dazzles. We offer a free consultation and kitchen design plan. Contact us for more information.
Other Kitchen Cabinet Articles