Every time I turn around a new device becomes smart, or at least smarter than me. From smart refrigerators being sold at the Independence blvd of Best Buy, to space friendly Kitchen renovations in Chesapeake, the technology, and the need to adjust with it, become more complicated and advanced. With each device I become more like George Jetson, living the effortless life of automation to do chores in the kitchen I really do not want to do. Even things that you could never conceive of being high tech are integrating digitally. And the technology, and masses of it, is exploding, offering us new kitchen innovations by the day.
Kitchen Technology Is For Everyone
In general, so much of technology seems out of our reach due to its very specialized, and outrageously expensive, price tag. High tech weapons and mind boggling medical equipment are just stories we see in the media, without ever really giving a second thought to using them in our daily life. But with the kitchen that is different.
Every kitchen invention is directly useful to me, the consumer. All of the innovations are designed to make my preparation of dinner from my Greenbriar home safer, easier, tastier, and more efficient. It is all practical technology. So where are we headed?
It is a technology marathon and every homeowner in Chesapeake is "running" in it
Well we are all moving at different paces as we renovate our old kitchens for our Chesapeake homes and condos, or buy new ones. But there are some definite trends you are going to see over and over, regardless of where your kitchen is in terms of being the most technologically advanced room in the house.
Everything is connecting, starting with your refrigerator
If you haven't heard of the Samsung high tech refrigerator I will sum up the basics for you. The tried and true refrigerator has been upgraded and is becoming so much more. Being the key appliance in the most trafficked room of the house it seems like the perfect digital hub for the family. The new refrigerator:
Has cameras built in so you can see the inventory from any connected device
Has a multipurpose smart screen that allows you to do anything you would do on your smartphone except it is displayed on the front door of the unit
Offers full multimedia capabilities
But it is more than just a refrigerator with a giant Ipad. It is designed to actually enhance the flow of your life in the
kitchen. When you are at the store, you can check inventory instantly using the cameras. You are in constant communication with whoever is connected to the refrigerator so you can give the whole family messages, with reminders that are displayed right there. You can order online right from the refrigerator or a device. Think about it, there is no more:
I bought to much
I bought too little
Are we  out of ….?
Who has xyz in stock?
I didn't know you left me something in the refrigerator
Connecting and beyond
And connecting is going well beyond just the refrigerator. You can actually use little buttons by Amazon all over your house that with one push can order products you are out of and have them shipped. Or i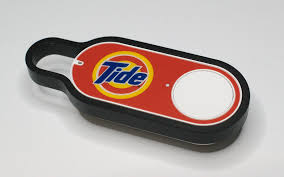 f that is too cumbersome there are scanners you can put on the garbage that you can use to scan and reorder products before you throw them away. And it doesn't look like it is going to stop there.
Did I turn it off?
The appliances themselves, from the range to a countertop toaster are all connected to an app allowing you control 200 miles away. Any device can be chipped and synced with any smart device, meaning you have access anywhere and this is where it really gets interesting.
In fact, in a decade no one is ever going to have to ask:
Did I turn ___________off?
You will just go to your Iphone and see. And of course shut it off if it is. All this will occur within seconds.
Anything Can Be Made Smart
And nothing is beyond the imagination of engineers. Even countertops can be made smart with sensors that can allow them to do a number of things. The new Whirlpool interactive countertop can bring up recipes, digital files, music as well as locate your heating element anywhere on the counter surface, allowing you to maximize space and giving convenient access to what is on the proverbial (countertop) stove.
The future of kitchen and kitchen renovations
As a kitchen renovation company serving Chesapeake and Virginia Beach, we are constantly looking for trends to make your kitchen high tech and beautiful. We focus on taking what you have and enhancing it to be useful and exciting to be in.
Renovating Your Chesapeake Kitchen?
Call Accent Kitchens for a FREE quote or come visit our Virginia Beach Blvd store. We do kitchen renovations and kitchen cabinet refacing and replacement in all of Chesapeake including:
Greenbrier
Hickory
Grassfield
Great Bridge
Deep Creek
Bowers Hill
Western Branch
and more
Contact Us For More Information
---
Other Chesapeake and Virginia Beach Kitchen Renovation Articles: