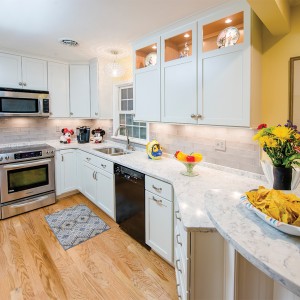 There is an excellent article on saving money I found in U.S. News & World Report. The link to the article is at the bottom of the page
Here are some the highlights:
Look for decorative items that you may not think are important like crown molding, or etching and engraving on glass cabinet doors.
Consider additional options like painting your kitchen cabinets instead of replacing them all together.
Since you are not a contractor you will have to get subcontractors to do work like installation, etc. This means you will have to supervise them as you are in charge of the project instead of a separate contractor.
YOU are the job foreman of your own kitchen and are responsible for any permits you're responsible for like tearing down walls and disposal of items so get ready for a lot of managing.
You are now  the "buyer" for your install. This means you need to shop around for the best prices for items or you will not be able to save as much money.
Be prepared for hidden costs with any salesperson you deal with, whether from a big box store or another contractor.
Try to keep any fixtures, electrical, plumbing etc. in the same place as this will save you time, effort, and money.
Don't assume a large Virginia Beach blvd store has the lowest price.
Research every aspect of your project. Seek experts and ask questions.
And let me add an additional one..
Get lots of quotes. In fact we can help you with this one regardless of where you are in the process.
Quotes on Kitchen Cabinets
We can help you by providing a quick two day free quote in which we can show you what's available from us, as well show you what you actually get from a big box store.
Comparison Quotes Against Other Stores
Maybe you have a quote or maybe you have a lot of quotes. I want to look at all possibilities so we don't miss any opportunities for upgrades, without wasting money.
Looking for Virginia Beach kitchen Cabinet Pricing?
Come visit our showroom on Virginia Beach Blvd.
Looking for Newport News or Williamsburg kitchen Cabinet Pricing?